Professional Wallpaper Stripping Services in the UK
Do you want wallpaper removed from walls (and ceilings) to prepare for re-papering or re-plastering, or simply for painting?
Many customers used to ask us if we could do this when we were carrying out house-clearance jobs, so we now include wallpaper stripping and removal as a stand-alone service – and we can do it for you at low cost.
Being a licensed house clearance company, we also dispose of all the leftover rubbish in the proper way. Stripping wallpaper is one of the messiest and most time-consuming home-improvement jobs – and it can be very frustrating. Should you steam or spray with chemicals? How do you avoid damaging the wall?
You need to know the correct techniques to get the job done properly. You also need to use the right tools and chemical substances – and to have lots of patience.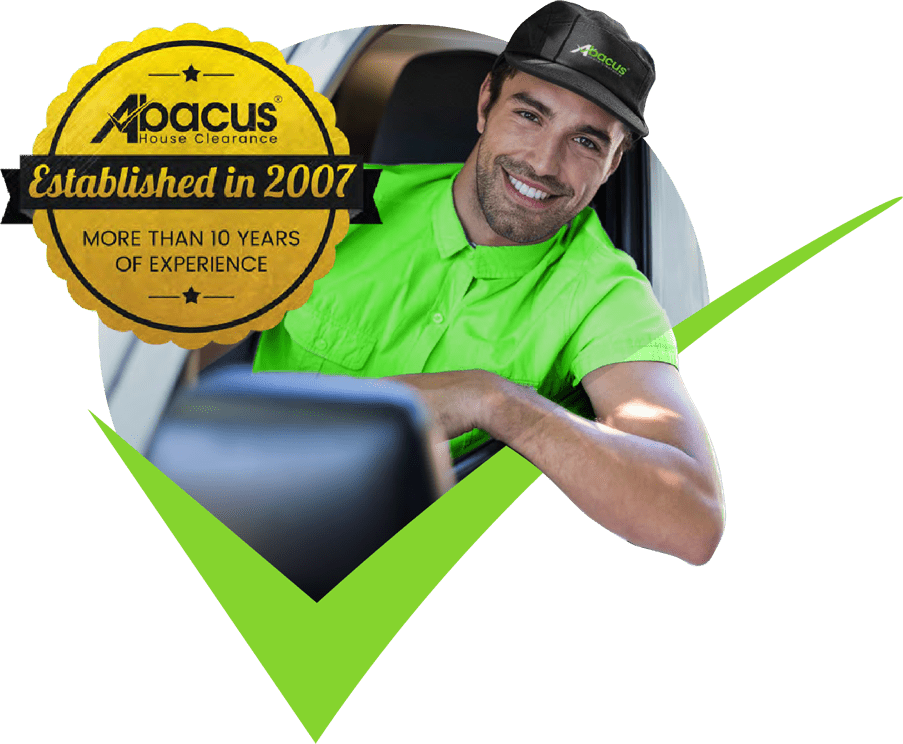 FAQs
Wallpaper Stripping
Is it a two-bed apartment or a 20-bedroom mansion? We aim to complete up to  4 rooms in under 1 day. We're quick workers!
The team work a full day stripping the wallpaper, however, it is always difficult to determine how long it will take, until you actually start the stripping, as it depends upon how easily the paper can be removed. If it is woodchip paper or if the paper has many layers of paint this can be more difficult to remove which will take more time and can cause damage to the plaster.
We are licensed to carry waste and only use proper recycling centres. We dispose of everything in the proper way
Note that you can't put out wallpaper, whether it's used or unused, along with other paper for recycling. It has coatings and other contaminants which make it unsuitable for recycling back into paper.
Our teams are trained to carry out the work as cleanly as possible and will spread dust-sheets as necessary to prevent any dirt from spreading.
Start Your Stress Free House Clearance
To be able to give you an estimate, we need you to send us pictures/video of the rooms/areas, the postcode and let us know if there is any woodchip paper, or ceilings to be stripped so we have an accurate overview of what the job will entail. You can send us pictures/video to office@abacushouseclearance.co.uk or by WhatsApp to 07838 213760.
Testimonials
Rob, Shane and Gary were great - they worked hard and didn't stop until the job was done. From the beginning, Emma in the office was very helpful and made sure everything went smoothly. The foreman, Rob, made sure we were completely happy with everything, before they left. So very pleased and impressed. I would thoroughly recommend Abacus as a company.
Ben and Ian were fantastic in clearing my house prior to a move. There were some mighty heavy stuff to carry and break down, but the boys done the company proud and were determined to do the clearance in one journey. This resulted in only paying once and proved that they were not trying to make more money and had the customer's best interests at heart. Very jolly and friendly boys too. I wouldn't hesitate using the company again. Thanks so much 🙂
Rosemary Lambert
20/01/2020
Excellent work done from the guys worked hard from the minute they arrived very pleasant nothing a bother would recommend to anyone requiring this service and would certainly use again if I needed to great team of workers.
An amazing service. Speedy collection, great price and such friendly staff. Highly recommend.
Carl and Alex did an absolutely fantastic and professional job at clearing my mum's 2 bedroom house. They took great care in ensuring as much as possible could be recycled or items set aside to go to charity rather than landfill which was excellent.It was clear they took a real pride in their Jon and as a result they were warm and friendly - which when faced with a difficult task such as a house clearance I appreciated immensely. I would not hesitate to recommend them.
Very timely and efficient.
Very happy with the service I received from start to finish. Friendly, respectful, polite staff and very efficient. Couldn't have asked for more, a refreshing change in this day and age!!! Thank you team.
I was very pleased with the job Adam and his team did for me yesterday, clearing my late father's property. They arrived early and worked hard from the moment they got there, moving heavy furniture, emptying cupboards and bagging up rubbish. I was amazed at how quickly they worked, and they were very pleasant and polite throughout. I recommend them if you need a house clearance done.