Bereavement House Clearance Service
We are aware that many people are put in the difficult and stressful position of having to clear out a house on top of losing a loved one. Our goal is to make things as simple and supportive as they can possibly be for you.
Our customers may not live anywhere near the property to be cleared, or indeed even in the same country and need a professional service to assist them as part of the probate process.
Our teams aim to complete your clearance in the most effective and respectful manner possible and are aware that they frequently handle items that trigger deeply sentimental memories in our customers.
We work with solicitors, executors, court of protection professionals, Housing Associations, Charities and Councils as well as friends and relatives as part of clearing probate properties. When it comes to clearing out an estate, you can trust the sensitive professionals at Abacus
We also provide cleaning and garden tidy services to cover all aspects of what our customers may need in difficult circumstances.
Licensed Probate Clearance Service in London and Across the UK
Abacus provides a comprehensive probate house clearance service across London and the rest of the United Kingdom. Our team of experts are efficient and experienced in clearing out furniture, appliances, and other large goods from properties. We take pride in our fully licensed and insured service, ensuring that every aspect of the clearance is handled with care and attention to detail.
Our ethical approach to house clearances is of utmost importance to us, and we take great care to minimise any negative impact on the environment. We work strictly in compliance with the laws governing the disposal of waste, ensuring that everything we carry away is either recycled or repurposed.
You can trust Abacus to handle your probate house clearance with professionalism, efficiency, and a commitment to ethical disposal practices.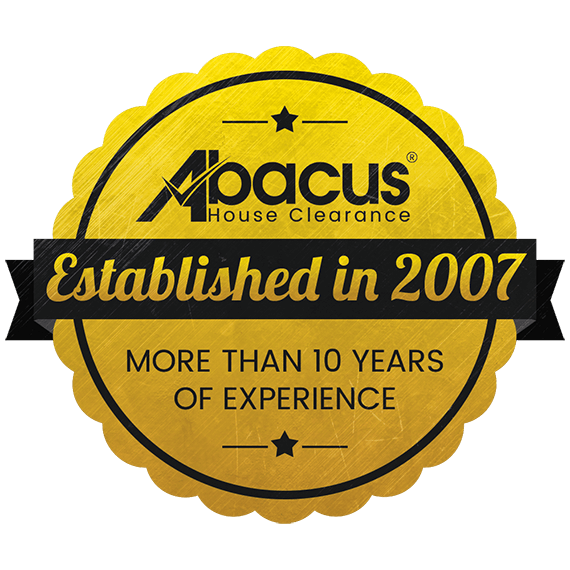 Contact Us for a Quote
Do you have any questions? Are you ready to book your house clearance? Then call us today FREE on 0800 0465 555 or request a callback!
Are you looking for a reliable service that shows up on time and has an extensive tack record of extremely satisfied customers? Then Abacus is your answer! Take a quick look at what our past customers think of our services – there's plenty of feedback on our client reviews page.
Abacus provides full or partial property clearances, removing everything requested by the client from lofts, garages, gardens, office spaces, commercial buildings and factories.
We can also provide property cleaning services if you'd like us to, helping you regain full control over your emptied premises and improving their appeal on the rental or resale market.
About Our Probate Clearance Services
What is a Probate Clearance
When dealing with an estate, attorneys, administrators, or executors typically need a probate clearance before they may remove its contents. Following the passing of the probate valuation and report to HMRC, probate clearances are often the following stage in the probate procedure.
Transparency
Abacus provides cost effective services by simply basing our prices on how much we haul away. Our prices are always complete and include all costs (such as labour, transportation, and disposal) up front.  During the booking process our office staff check with customers location of the property and parking restrictions, so we can highlight any associated costs where possible. There are items that have additional charges, as we are charged at the recycling centres for the processing of these. We make our customers aware of these during the booking process so there are no unexpected charges!
It's also absolutely fine if you have no idea how much there is to be removed. Booking your probate house clearance allows you to lock in a base rate, for the team and 1 x load of one of our vehicles. On arrival at the property, your team will complete a walk-round to assess what the clearance will require. We then notify you as soon as possible with this overview and the full cost breakdown so we can adhere to your instruction. We do not just turn up, completely clear a property and hit you with a bill unless you instruct us to do so!
There are lots of great reasons customers choose us for their probate house clearances:
A Clearance Service You Can Trust
We provide a sensitive and professional service. We know that many clearance jobs are dealing with personal possessions that have sentimental value, and many of our customers are dealing with loss. In these situations, we will check items with you so nothing gets taken away that you want to keep.
We know that you may have to travel a long way and perhaps take time off work. We will always show up at the right time and we have not let down a customer yet. We also have fully uniformed staff and we have unmarked vans for your discretion.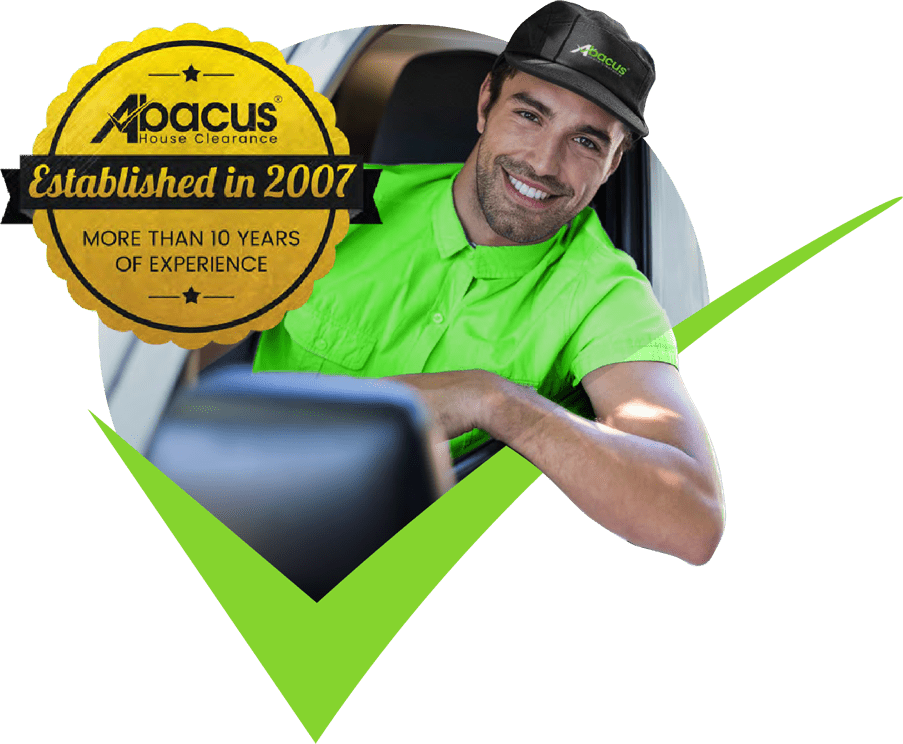 Testimonials
Rob, Shane and Gary were great - they worked hard and didn't stop until the job was done. From the beginning, Emma in the office was very helpful and made sure everything went smoothly. The foreman, Rob, made sure we were completely happy with everything, before they left. So very pleased and impressed. I would thoroughly recommend Abacus as a company.
Ben and Ian were fantastic in clearing my house prior to a move. There were some mighty heavy stuff to carry and break down, but the boys done the company proud and were determined to do the clearance in one journey. This resulted in only paying once and proved that they were not trying to make more money and had the customer's best interests at heart. Very jolly and friendly boys too. I wouldn't hesitate using the company again. Thanks so much 🙂
Rosemary Lambert
20/01/2020
Excellent work done from the guys worked hard from the minute they arrived very pleasant nothing a bother would recommend to anyone requiring this service and would certainly use again if I needed to great team of workers.
An amazing service. Speedy collection, great price and such friendly staff. Highly recommend.
Carl and Alex did an absolutely fantastic and professional job at clearing my mum's 2 bedroom house. They took great care in ensuring as much as possible could be recycled or items set aside to go to charity rather than landfill which was excellent. It was clear they took a real pride in their Jon and as a result they were warm and friendly - which when faced with a difficult task such as a house clearance I appreciated immensely. I would not hesitate to recommend them.
Kathleen Lowes
27/08/2019
Very timely and efficient.
Very happy with the service I received from start to finish. Friendly, respectful, polite staff and very efficient. Couldn't have asked for more, a refreshing change in this day and age!!! Thank you team.
I was very pleased with the job Adam and his team did for me yesterday, clearing my late father's property. They arrived early and worked hard from the moment they got there, moving heavy furniture, emptying cupboards and bagging up rubbish. I was amazed at how quickly they worked, and they were very pleasant and polite throughout. I recommend them if you need a house clearance done.