Rubbish Collections and Disposal in London and surrounding areas
Eco Waste Disposal is part of Abacus House Clearance Ltd. This part of the service offers rubbish collections and disposal in London and surrounding areas
With years of experience in providing expert rubbish removals, as well as thorough knowledge of London area we are proud of our reputation as one of the most affordable, professional and reliable rubbish clearance companies in London
We don't hang around when we get to the site. We do the job quickly, giving you a clean tidy space that's ready to put to good use, instead of being filled with rubbish
We take good care of our clients and have an excellent working relationship with them, offering discounts for our regulars. And we pride ourselves on our customer service and professionalism.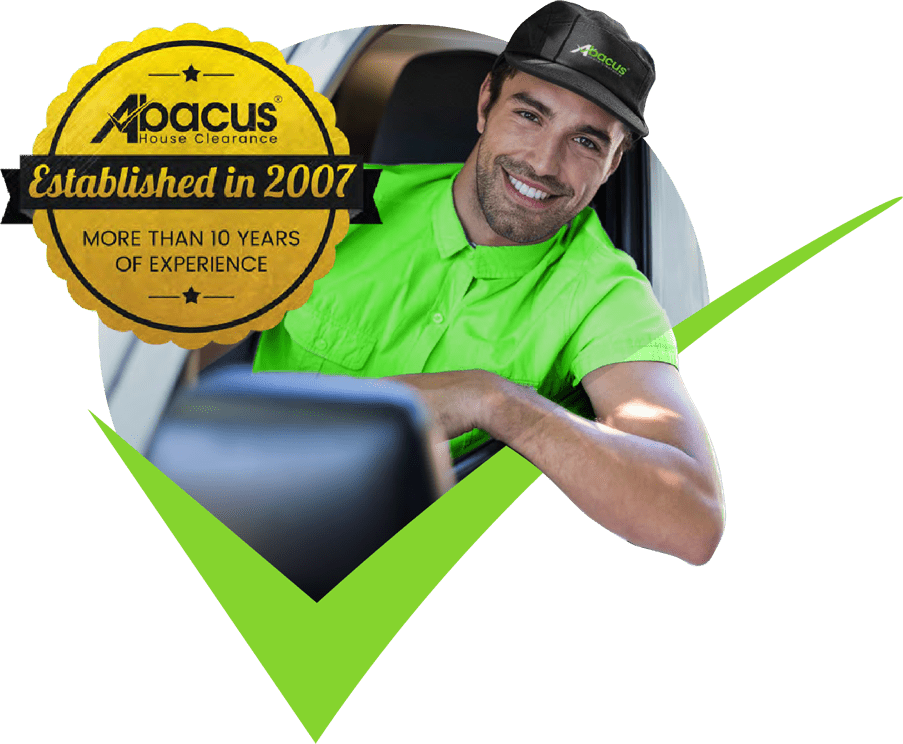 Stress Free
Abacus Rubbish Clearance
We work with domestic households, estate agents, private landlords, builders, property managers, garden associations, flooring companies, construction companies and many other businesses.
We are a responsible company that's fully insured and licensed with the Environment Agency. We only use licensed recycling centres!
With a variety of services on offer, from domestic to building waste removal whatever you need we can help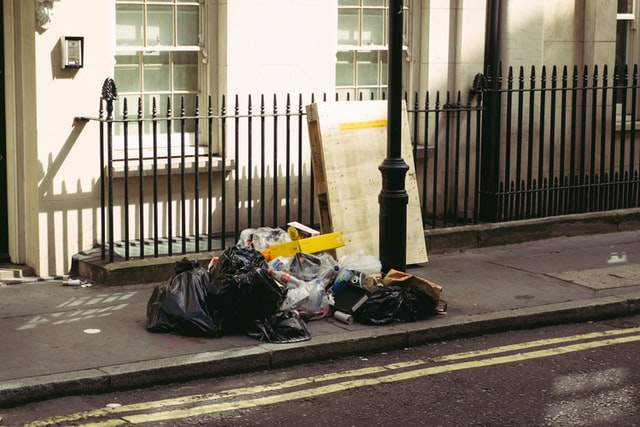 Licensed, insured and
environmentally friendly!
We Are Registered With The Environment Agency, Have Full Public Liability Insurance, And Are Registered Waste Carriers.
We use authorised recycling sites and send reusable items such as clothing, bedding, bric-a-brac and furniture to charity shops.
What We Offer
Prices are based on load size and the time needed to load, unload and dispose of the waste. Should there be a larger load than originally agreed, that takes longer than originally anticipated – the cost will be adjusted accordingly
Professional Rubbish
Collection You Can Trust
Whether you're a domestic customer needing your house or garden cleared, or a company with an office clearance or building waste to clear, you're in good hands with Eco Waste Disposal.
Quickest way to get an idea of what a collection will cost is to take a picture of everything to be cleared with your postcode and send it by WhatsApp to 07838 213760 and we will get back to you with a cost and our earliest availability.
While you relax with a cuppa or use the time you would have spent carting rubbish about to do something else around the house, our smart and friendly team can have your rubbish out and gone, leaving you a tidy space that you can actually make use of.
You may have moved, cleared out a loved ones' home or loft, dismantled a shed or have leftover materials from a renovation project and just need the unwanted items taken away.
We can clear away unwanted items you've had hanging around for years, like fridges, sofas, cookers, carpets, old mattresses and beds, radiators, cupboards, bookcases, kids toys that they don't play with anymore – the list is endless. Been using the garage as a storage area, and got to the point where you've had enough? And you'd finally like to be able to get your car in there? Have you been busy clearing your garden and need all the cuttings taken away – we can do that too!
Whatever you've got that you don't want, we can get rid of it.
When you're moving offices, getting new furniture, or rearranging areas, it can take an awful lot of time and energy. And you don't want all the clutter of old desks and things you're clearing out getting in the way.
We understand that your business has got to keep running, even in the middle of a revamp, so if you need us after hours or on the weekend, when the building's empty of staff and work's finished for the day, our team can work whenever it's convenient for you.
You know what it's like on site when there's so much rubbish and you can't get to what you need to do for all the rubble and soil. And you could hire a skip, but then you'd have to spend time filling it when you could be building instead.
Not only will we remove your building waste, we'll help your labourers with loading to get it out of your way quicker, letting you get onto the next job. We can take bricks, wood, plasterboard, rubble, soil, timber, metal and any other non-hazardous waste.
What we've listed above is only the tip of the iceberg. Don't see what you need? Give us a call on 07838 213760 for a no-obligation chat, and our professional team will help you.
Full load of soil/concrete, up to 14 cubic yards is only £175+vat
Plasterboard has an additional charge of £75+vat up to a half load or £150+vat for up to a full load.
Under counter sized fridge or freezer £45.00+ vat each
Tall upright fridge freezers or chest freezers £80.00+ vat each.
Mattresses only £30 +vat each. 
Tins of paint are charged from £12+ vat each. Gas bottles / Canisters are charged from £20.00 + vat each. Car tyres are charged from £20 plus vat each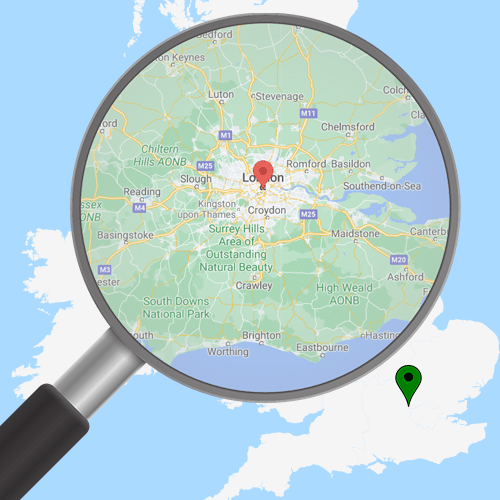 We're a reliable clearance company
We work 7 days a week and cover the whole of the United Kingdom. We turn up at the time agreed every time. We have never let a customer down.
Our clearance teams are well trained, fully uniformed, hard-working, trustworthy, thorough and quietly efficient. But they are also friendly and helpful – as our customers can testify.
Our teams are sensitive to the fact that, in many cases, they are handling possessions that stir strong sentimental memories in the customer.
We do not use subcontractors!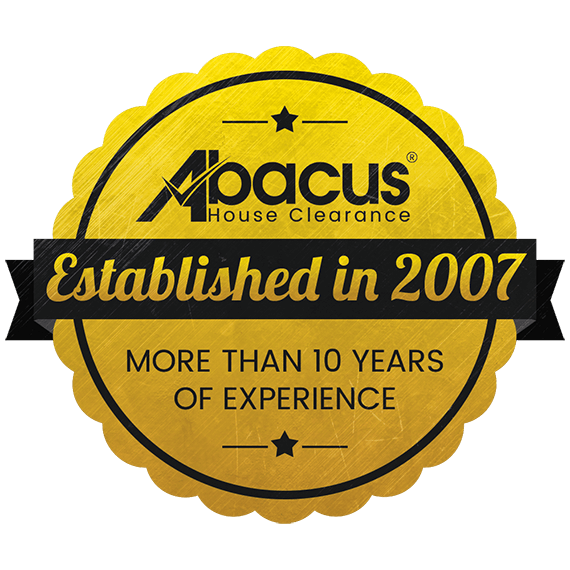 Testimonials
Rob, Shane and Gary were great - they worked hard and didn't stop until the job was done. From the beginning, Emma in the office was very helpful and made sure everything went smoothly. The foreman, Rob, made sure we were completely happy with everything, before they left. So very pleased and impressed. I would thoroughly recommend Abacus as a company.
Ben and Ian were fantastic in clearing my house prior to a move. There were some mighty heavy stuff to carry and break down, but the boys done the company proud and were determined to do the clearance in one journey. This resulted in only paying once and proved that they were not trying to make more money and had the customer's best interests at heart. Very jolly and friendly boys too. I wouldn't hesitate using the company again. Thanks so much 🙂
Rosemary Lambert
20/01/2020
Excellent work done from the guys worked hard from the minute they arrived very pleasant nothing a bother would recommend to anyone requiring this service and would certainly use again if I needed to great team of workers.
An amazing service. Speedy collection, great price and such friendly staff. Highly recommend.
Carl and Alex did an absolutely fantastic and professional job at clearing my mum's 2 bedroom house. They took great care in ensuring as much as possible could be recycled or items set aside to go to charity rather than landfill which was excellent.It was clear they took a real pride in their Jon and as a result they were warm and friendly - which when faced with a difficult task such as a house clearance I appreciated immensely. I would not hesitate to recommend them.
Very timely and efficient.
Very happy with the service I received from start to finish. Friendly, respectful, polite staff and very efficient. Couldn't have asked for more, a refreshing change in this day and age!!! Thank you team.
I was very pleased with the job Adam and his team did for me yesterday, clearing my late father's property. They arrived early and worked hard from the moment they got there, moving heavy furniture, emptying cupboards and bagging up rubbish. I was amazed at how quickly they worked, and they were very pleasant and polite throughout. I recommend them if you need a house clearance done.