A House Clearance with a piece of History discovered by Abacus Staff
We were contacted to carry out a house clearance at a property in Bishop Auckland, County Durham. Whilst clearing the garage our staff came across a large brass plaque marking the opening of a Cemetery in Bishop Auckland. We were intrigued by the plaque and contacted the owner of the property who could not offer any information and did not wish to keep the plaque so we brought the plaque to our warehouse and decided to carry out some investigations as to the origins and felt that this belonged back in the Jewish community. After many calls we were contacted by a member of the Hebrew Congregation in Newcastle upon Tyne who was very keen to collect the plaque, he told us that it was of historical importance and would ensure that this was placed back into the Jewish community. He Later wrote to us and sent information about the Jewish Community in Bishop Auckland where the names on the plaque L. Lewin Esq and A. Friede Esq. who opened the cemetery on 2nd June 1946 are mentioned. Leo Lewin died in 1965 and buried in a small Jewish Cemetery in Darlington.
We were delighted to save a piece of history and return it back to the Jewish community where it belongs.
Photograph of the Salvaged Plaque in Bishop Auckland
Excerpts from the Jewish Communities in Bishop Auckland and Darlington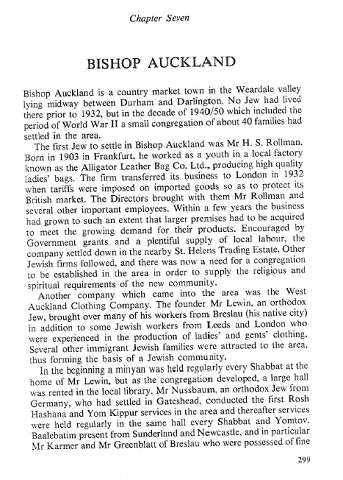 Letter of Thanks
Hi Bill,
Many thanks for the Bishop Auckland Cemetery plaque. I really appreciate your efforts to place it back in the Jewish community. It will probably be erected in either the Newcastle Jewish Cemetery or in the London Jewish Museum as a record of what is now a forgotten community.
I have attached a couple of pages giving the history of the Jews in Bishop Auckland which you may find interesting.
Once again many thanks,
Best Wishes
Peter